La Zenia is a tourist area located on the Costa Blanca, 10 minutes by car from the city of Torrevieja, 18 minutes from the Murcia-San Javier airport and 50 minutes from the Alicante airport. La Zenia area belongs to the Orihuela Costa municipality, province of Alicante (Spain). However, many people mistakenly consider that this is part of the municipality of Torrevieja, due to its proximity to it. The best way to get here is by car, traveling on the N-332 road, parallel to the Mediterranean coast; and on the AP-7, which has highway sections.
La Zenia is a very attractive area, especially for foreign citizens who choose it both to spend their holidays and to buy homes and reside permanently. Why is this area so attractive to them? Below, we will find out all the reasons.
Holidays in La Zenia. La Zenia beach

If we consider La Zenia as a place to spend the holidays, it is worth noting its beautiful beach − La Zenia, one of the best beaches of the Costa Blanca. This wonderful golden sand beach is 360 meters long and 115 meters wide. You can rent sun umbrellas and sun loungers here or take a dip in the warm and clean waters of the Mediterranean Sea.
La Zenia beach has been awarded the prestigious Blue Flag, due to the clarity of its waters and its well-developed tourist infrastructure. The beach is accessible to everyone: the elderly, families with children and people with reduced mobility. In addition, there is a Red Cross place for first aid and public toilets. Children of all ages will enjoy a playground and a volleyball court.
You will find near the beach a wide variety of cafes, restaurants and hotels. There is a large beach bar right next to the sea, ideal to relax with a drink and a few tapas while enjoying the wonderful views. Also, you can practice different water sports at La Zenia beach.
Chiringuitos del Sol on the La Zenia beach
Services: skating; water skiing; banana boat; parasailing; kayaks; children's water park; saltwater pool; locker rentals; rental of sun umbrellas and sun beds; coffee shop.
Address: Paseo del Mar, S / N, 03189 La Zenia.
Telephone: +34 965 32 18 45.
Website: chiringuitosdelsol.com
Opening hours: 09:00 h – 22:00 h.
La Mirada restaurant on La Zenia beach

On the other hand, if you prefer something more sophisticated, you will find on La Zenia beach a magnificent Mediterranean restaurant: La Mirada. Visitors can enjoy the wonderful views of the Mediterranean on the outdoor terraces, take a dip in the pools, and, of course, enjoy the local dishes.
Average cost: € 20.
Address: Paseo del Mar 2 Urb, 03189 La Zenia.
Telephone: +34 966 76 03 85.
Website: zeniaplaya.es
Opening hours: 10:00 am – 10:00 pm.
Other beaches near La Zenia
Other nearby beaches:
Playa Flamenca – 1.3 km.
Cabo Roig – 2.4 km.
Cala Capitan – 5.9 km.
La Glea Beach – 5.9 km.
La Zenia Boulevard shopping centre, restaurants, entertainment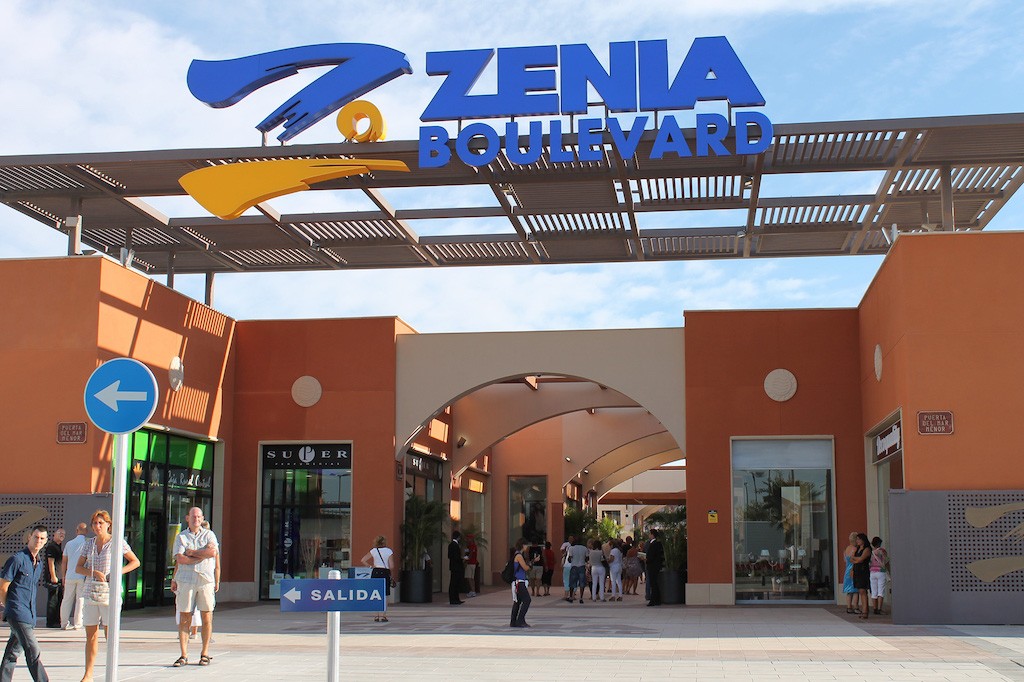 In addition to spending a holiday on the beach, close to the sun and the sea, La Zenia is also a paradise for shopping lovers. This is the largest shopping centre of the Alicante province: La Zenia Boulevard.
It is an area of ​​160 thousand m2 outdoors with more than 150 business premises:
Clothing and accessories stores: ASTORIA, BENETTON, BERSHKA, BEST BRANDS, BIJOU BRIGITTE, C&A, CALZEDONIA, CELOPMAN, CLAIRE'S, CORTEFIEL, COUTURE, DESIGUAL, DI MARCO, ENCUENTRO MODA, GERRY WEBER, GREENWICH, GUESS, H&M, INSIDE, INSPIRAL, IOKESE, JACK & JONES, KOALA BAY, LA MILLA DE ORO, LEFTIES, LEVI'S, LION OF PORCHES, MANGO, MASSIMO DUTTI, MAYKA FOOTWEAR, MAYKA SNEAKERS, MISAKO, OYSHO, PACO MARTINEZ, PARFOIS, PEPE JEANS, POLINESIA, POP UP STORE, PRIMARK, PULL & BEAR, PUNT ROMA, REWERS, SALSA, SPRINGFIELD, STRADIVARIUS, SUPERDRY, TEZENIS, VIA DE MILANO, WOMEN'SECRET, ZARA.
Children's clothing stores: BABY CENTER, CHARANGA, MAYORAL, TUTTO PICCOLO.
Shoe stores: BOTTICELLI, DEICHMANN, GEOX, MARYPAZ, MAYKA, NICHI SEIJO, PEWTER, PRIMICHI, SALVADOR ARTESANO, SAXO, TINO GONZALEZ & KID CLUB, ULANKA.
Sports stores: ADIDAS, DECATHLON, DECIMAS, VANS.
Cosmetics and perfume shops: DRUNI PERFUMERIA, L´OCCITANE, MARVIMUNDO, PRIMOR, RITUALS.
Telephone and internet stores: INSPIRAL MOBILE, THE PHONE HOUSE, VODAFONE.
Furniture and household items: CONFORAMA, DECOQUALITY, PROCOMOBEL, TRAMAS, ZARA HOME.
It is worth mentioning the Leroy Merlin hypermarket, perhaps the most popular store for the purchase of furniture, decoration, DIY and construction materials. Below there are some useful facts about Leroy Merlin:
Surface: 7000 m2 approximately.
More than 130 employees, many of whom speak multiple languages.
13 product sections. Including: building materials, wood, electrical appliances, tools, carpets, ceramics, plumbing, kitchen, office, gardening equipment, paintings, decorations and lighting.
More than 30 000 items for sale and more than 50 000 on order.
Several services: delivery, installation, financing, wood cutting, van rental, product search, tailoring, paint colour selection, affiliate programs, etc.
Contact information:
Address: Centro Comercial Zenia Boulevar, Calle Jade, s / n, 03189.
Opening hours: 09:00 – 22:00.
Telephone: +34 965222340.
Websitehttps: leroymerlin.com
There is also in La Zenia Boulevard an electronics and appliances hypermarket – Media Markt which stands out for its wide range of products and services.
Among the store's services are the installation, set up and repair of electronic equipment and devices, goods on trust. There are also frequent promotions and discounts on hundreds of products.
Address: Centro Comercial Zenia Boulevar, Calle Jade, s / n, 03189.
Opening hours: 09:00 – 22:00.
Telephone: +34 965359900.
Website: mediamarkt.com
The third largest store on Zenia Boulevard is Alcampo. You can find here not only the widest range of food, but also home textile products, appliances and decoration items.
Address: Centro Comercial Zenia Boulevar, Calle Jade, s / n, 03189
Opening hours: 09:00 – 22:00.
Telephone: +34 965324 898.
Website: alcampo.es
It will take a long time to list the entire infrastructure of Zenia Boulevard, so we will highlight the souvenir shops, jewellers, toy stores, video game stores, a bowling alley, a casino, a dry cleaner´s, a hairdresser, a bank branch, a workshop, a playground and more.
Naturally, in the mall area there are many bars and cafes open all year round, even on holidays, when all the stores are closed. Besides, during festivals, carnivals and holidays the Zenia Boulevard offers shows, concerts and other events and recreational activities for the whole family.

Zenia Boulevard shopping centre contact details
Zenia Boulevard website: zeniaboulevard.es
How to get here by bus:
From the Torrevieja bus station (Costa Azul bus company); the timetable can be found on the website: http://costazul.net/lineas-interurbanas/
From the Hospital bus stop in Torrevieja.
From the Playa Flamenca bus stop on Playa Flamenca.
From La Regia residential area.
As we can see, La Zenia is an area with a well-developed infrastructure and a wide range of leisure activities. For this reason, many foreigners choose it in order to live and spend their holidays. Currently, around 2,000 people live in La Zenia, mainly British. There are plenty of Irish people too, and for this reason there is even a great and authentic Irish bar:
Paddy's Point Irish Bar & Restaurant
Average cost: € 25.
Address: Calle Flores, 13, C.C Zeniagolf, Local, 03189 La Zenia.
Website: paddys-point.com
Telephone: +34 966730527.
Opening hours: 09:30 am – 02:00 am.
Housing in La Zenia

According to the Idealista website, in April 2020, real estate in La Zenia had an average price of € 1915 / m2; which is quite expensive. By way of comparison, in other areas of Orihuela Costa the prices are as follows: Playa Flamenca – € 1706 / m2, Los Balcones and Los Altos – € 1442 / m2, and in the neighbouring municipality of Torrevieja – € 1378 / m2. However, given the prestige and well-being of this area, there is always a high demand.
As an example, a two-bedroom apartment in La Zenia will cost from € 65 000; a three-bedroom apartment from € 92 950; a 75 m2 bungalow from € 92 950.
If you are interested in buying a property in La Zenia, you can always look up our catalogue or phone our specialists.
Like this article? Share with your friends!