How much money do you need in order to live in Valencia? We will tell you in this article everything you need to know about the prices of goods and services in Valencia, according to data from the Numbeo website. So that you can have the most complete information about the quality and cost of living in Valencia, we will also provide you with statistics from the Numbeo website regarding the level of security, the environment, as well as the effectiveness of conveyances and medical care in Valencia.
Cost of living in Valencia
According to the Numbeo website, the average cost of a resident of Valencia is distributed as follows:
28.2% of the budget is spent on food;
27.7% − it is intended to pay the rental of the house;
14.5% − to eat in restaurants;
12.9% − in transportation;
7.5% − goes to pay for supplies (water, electricity, etc.);
The rest is for clothing and leisure.
Housing in Valencia
Regarding the renting, a one-bedroom apartment in the Valencia city centre can be rented for about € 688.15 on average; and for € 479.17, an apartment outside the centre. In contrast, the three-bedroom apartments for rent will cost on average € 1066.67 (in the centre) and € 712.67 (outside the centre).
As for the purchase of homes, the price per square meter in the centre of Valencia, is € 2605.25, and outside the centre − € 1376.67.
The average mortgage interest rate in Valencia is 2.31% per year (20-year fixed mortgage).
On the other hand, the gross rental yield in Valencia is 5.40% if the house is in the centre, and 7% if it is located outside the centre.
Essential products
Valencians usually buy personal care products and food in supermarkets, markets or in specialized stores. The food in Valencia is of good quality and its prices are affordable. You can check here some examples of the cost of food and personal care products in Valencia:
Milk (1 litre) − € 0.63.
Bread (baguette, 500 g) − € 0.82.
Rice (white, 1 kg) − € 0.88.
Eggs (dozen) − € 1.51.
Locally produced cheese (1 kg) − € 10.
Chicken (fillet, 1 kg) − € 6.
Beef (1 kg) − € 10.
Apples (1 kg) − € 1.54.
Bananas (1 kg) − € 1.29.
Oranges (1 kg) − € 1.07.
Tomatoes (1 kg) − € 1.52.
Potatoes (1 kg) − € 0.86.
Onions (1 kg) − € 1.02.
Salad − € 0.85.
Water (1.5 L) − € 0.37.
A bottle of wine (average price) − € 4.
Beer (local production, 0.5 L) − € 0.71.
A pack of cigarettes (Marlboro) − € 5.08.
Deodorant − € 2.58.
2 in 1 shampoo (400 ml) − € 3.04.
Toilet paper (4 rolls) − € 1.19.
Toothpaste − € 1.37.
Tampons (Tampax, OB, etc.) − € 4.48.
Healthcare in Valencia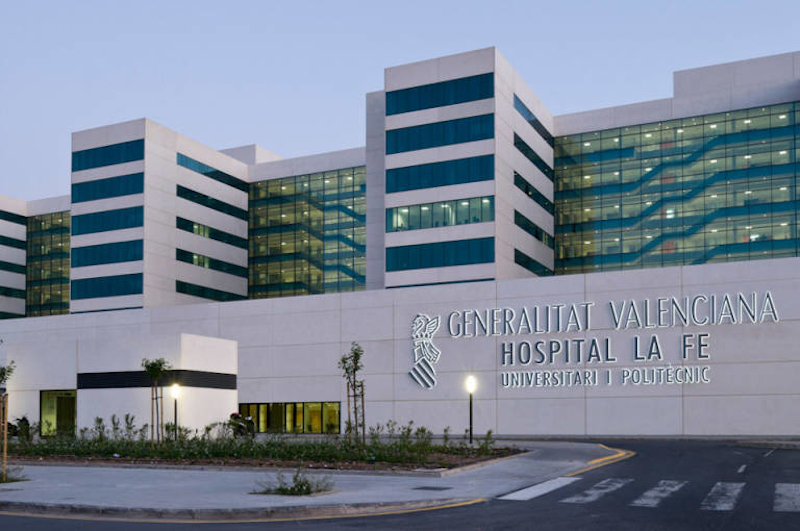 According to the Numbeo website, the satisfaction rate of the healthcare service in Valencia is high or very high. The city of Valencia generally in this indicator received 81.72 points out of 100 possible. You can see the breakdown by categories here:
Skill and training of the medical personnel: 82.43% (very high).
Rapidity ​​when completing observations and reports: 72.92% (high).
Modern diagnostic and treatment equipment: 89.71% (very high).
Friendliness and likeability of the staff: 75.68% (high).
Waiting time in the medical centres: 63.51% (high).
Satisfaction with the cost paid: 90.54% (very high).
On the other hand, if we talk about prices:
the cost of antibiotics (12 doses) € 5.27 on average;
the cost of cold and flu medications (such as coldrex, 6−day dose) − € 6;
A consultation of a private doctor will cost an average of € 59 for 15 minutes.
Transport rates in Valencia
According to data from the Numbeo website, 44.44% of Valencians use the car as a means of transportation; 18.52% prefer to walk; 14.81% choose the bicycle; 7.41% use the motorcycle; 7.41% choose the bus; 3.7% use the metro and 3.7% the tram.
Regarding prices:
the public transport fare is € 1.5 each way;
a monthly transport voucher costs € 41.40;
a call taxi call € 4 + € 1.08 per km and € 19.32 for each hour of waiting;
a litre of gasoline in Valencia costs € 1.3;
You can buy a new car, like the Volkswagen Golf 1.4 90 KW, for an average of € 18 000.
Services in Valencia
The payment in Valencia of various public services, communication services and other services represents a fairly important part of the budget. For homes with an area of ​​approximately 85 square meters, the average cost of electricity, water and waste collection and treatment is € 112.73 per month. Internet connection costs an average of € 36.08 per month. The mobile connection (local prepaid rate) costs on average € 0.16 per minute.
Sport and leisure in Valencia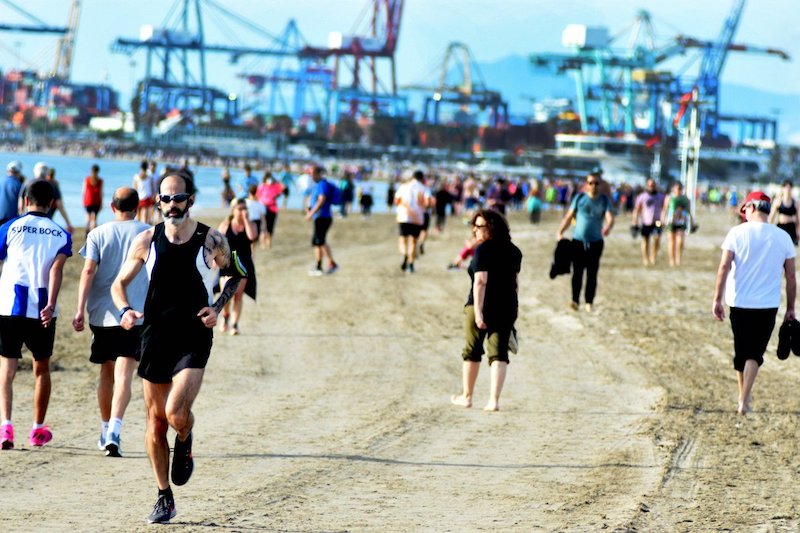 Valencians love to play sports. You will find in the city many sports centres and clubs, swimming pools, gyms, yoga centres, martial arts clubs, tennis and paddle courts and much more. At the same time, the cost of a subscription to a sports club is quite low: € 31.11 per month. Instead, renting a tennis court will cost € 11.5 per hour on the weekends.
As for entertainment, one of the most common ways to spend free time is going to a restaurant.
If you read the above information carefully, you have probably noticed that a significant part of the Valencian budget is spent on eating out at restaurants. This is not surprising: the inhabitants of Valencia love to eat away from home and, very often, they meet in cafes, bars and restaurants for breakfast, lunch, dinner or just have a drink and talk. Valencia offers an excellent gastronomy and has a wide range of restaurants for all tastes, with very affordable prices.
In fact, you can dine in a cheap restaurant for only € 10. A three−course dinner for two people, in a mid−range restaurant, will cost an average of € 35. Also, at McDonald's you can eat for € 7. In addition, you can enjoy a cup of cappuccino for € 1.54 and a fresh beer for € 2 (0.5 l.) in bars and cafes.
Going to the cinema is another very popular initiative. A cinema ticket for an adult costs an average of € 8 in Valencia.
Clothing and footwear
Shopping is another very popular hobby in Valencia. The city offers a large number of stores, boutiques and shopping malls where you can find clothes, shoes and accessories for all tastes and budgets. The prices are approximately the following:
Levis type jeans − € 68.66.
Summer dress from brands such as Zara, H&M, etc. − € 29.70.
Nike mid−range shoes: € 65.
Leather shoes for men: € 85.23.
Cost of living in Valencia: children
Valencia is considered to be one of the best places in Spain in order to live with children. Perhaps it is due to its wonderful climate, its clean air (we will talk more about this below), the large amount of entertainment of all kinds, the wide offer of schools (public, private and charter) that offer high quality education, its many places for walking and the high level of security: these are just some of the advantages of Valencia for living with children.
If we talk about costs, the prices are approximately the following:
A private nursery (full day) − € 429.7 per month.
Private international school − € 7525 per year.
Environment and well−being in Valencia
According to the Numbeo website, air pollution in Valencia (according to criteria of the World Health Organization) has a low rating. According to certain criteria, the situation is as follows:
Air Pollution − 38.82 (low).
Drinking Water Pollution and Inaccessibility − 38.11 (low).
Dissatisfaction with Waste Management − 34.09 (low).
Dirty and Messy − 50 (average).
Noise and Light Pollution − 62.50 (high).
Water Pollution − 37.88 (low).
Air quality: 61.18 (high).
Accessibility and Quality of Drinking Water − 61.29 (high).
Satisfaction with Waste Management − 65.91 (high).
Cleanliness and order − 50 (medium).
Water quality − 62.12 (high).
Comfort when spending time in the city − 79.17 (high).
 Quality of Green Areas and Parks − 78.79 (high).
Safety in Valencia
Valencia is one of the safest cities in order to live in Spain. In fact, there are no very dangerous areas with a high crime rate, as, for example, in Barcelona. Therefore, it is possible to walk the streets with absolute calm, both day and night.
Crime rate − 25.47 out of 120 possible.
Safety rate − 74.53 out of 100.
Safety rate (when walking alone during the day) − 91.02 (very high).
Safety rate (when walking alone at night) − 76.06 (high).
Read our articles about Valencia:
Like this article? Share with your friends!