The quiet and cozy area of La Mata or Torrelamata is located in one of the urban districts of Torrevieja. To the north it is bordered by the municipality of Guardamar del Segura, and to the west – by the Natural Park of Lagunas de La Mata and Torrevieja. As to the neighboring urbanizations, it will be the urbanization of Rascasa Sierra Toledana (UrbanizaciónRascasa Sierra Toledana) in the north, and the urbanization of Parque Mar (Urbanizacion Parque Mar) – in the south.
According to the National Institute of Statistics – INE, the number of residents of the La Mata area was 1,262 inhabitants (as of January 1, 2019), which is 28 more than in 2018.
Despite the fact that it is a resort area with a large number of permanent residents from various parts of Europe, La Mata can still be attributed to bedroom communities of Torrevieja. But it falls into this category only due to its peaceful rhythm of life and the absence of big loud parties. As for the urban infrastructure, it is highly developed in this area.
La Mata: the history of the district
The origin of the La Mata area is associated with salt extraction, which conducted for centuries in the lagoon of the same name, while the population here was quite small and limited to several dozen inhabitants. In addition to the workers, there were also military personnel who supervised the production and observed the wharf from the nearby Moro or Cabo Cervera tower (Torre del Moro o del Cabo Cervera) – a coastal watchtower erected on a hill near the Cabo Cervera cave in Torrevieja.
In 1759, the city council of Orihuela handed over salt deposits operation of the La Mata Lagoon to the Spanish Crown and this gave rise to organized exploitation, whereas before its production was seasonal. Since the area was a salt mining center until 1802, it had its own justice office and mayor's office, which were later moved to Torrevieja. In 1829, the La Mata area was gravely affected by the earthquake, along with all Torrevieja and other nearby towns. State assistance turned into the reconstruction of surviving structures and the construction of 24 new houses. Since 2010, the district representation of Torrevieja's city hall has been located here, in La Mata.
La Mata: beach rest

The La Mata beach (Playa de la Mata) is a place with a length of 2300 meters and an average width of just over 40 meters. This is one of the most spacious beaches in Torrevieja and is located in the urban area of Torrelamata. The La Mata beach has a wide embankment along the coast line and has all the necessary modern facilities,including shower for feet, lockers, WC, medical posts, lifeguard towers, children's playgrounds and sports grounds, wooden paths along the beach and equipped descents for disabled persons.
There is a great opportunity to rent sun loungers and umbrellas to hide from the scorching sun, and there is also a rental of equipment for water sports for those who love active pastime.
On the beach there are placed cafes and chiringuito-bars to get a bite to eat or enjoy refreshing drinks. For more refined cuisine, one should pay a visit to Vela Beach Restaurant, located right on the beach, or Queen Mississippi Restaurant, which has an unusual boat-shaped design and placed between the dunes.
Chiringuito Juanito
Address: Av. de los españoles, n 1, 03188 Torrevieja, Alicante, Spain
Telephone: +34 602 677 814
Website: facebook.com
Restaurante Vela Beach La Mata
Address: Calle Geraneos, 1, Local A, 03188 La Mata, Alicante, Spain
Telephone: +34 966 922 455
Website: velabeachrestaurante.com
Restaurante Queen Mississippi
Right behind the beach of La Mata, there is a large sand dune forms the natural park «Parquedel Molino del agua», perfect for pleasant and healthful walks. In fact, the La Mata beach is a favorite place among vacationers who appreciate personal space and peace. Thanks to its location away from the city centre, and the hustle and bustle, this is a really comfortable place, ideal for relaxing holidays.
Given that La Mata is a fairly long and open beach, not protected by rocks or mountain ranges, and without artificial breakwaters, strong waves often arise there. Usually, before lunch, the sea looks calmer, but in the afternoon the waves may increase. Also, a lot depends on the season and weather conditions, so such factors should always be taken into account on vacation. However, this has its advantages: the La Mata beach is popular among windsurfers and scuba divers.
On the La Mata beach, a particular focus has been put on safety issues, and therefore it is divided into 3 areas:
La Mata Pueblo with 3 observation towers, 3 lifeguards and a medical post.
Avenida de los Europeos with 4 observation towers, 5 lifeguards and a medical post.
Quiosco «El Dulce» with 4 watchtowers, 5 lifeguards and a medical post.
The La Mata beach received at various times different kind of awards for its characteristics and amenities, there were among them: Blue Flag, Qualitur, ISO 14000 de MedioAmbiente, ISO 9000 de Calidad y Ecoplayas, etc.
The La Mata beach cab be reached by public transport, there is a bus stop (LINE A).
La Mata: The Nature Park and lagoons
Behind La Mata Beach, on the eastern side of the coast, there is an almost wild beach and a nature reserve – the dunes of Guardamar del Segura, among which there are conveniently paved wooden paths for hiking. But it is better not to walk through the dunes, to avoid harming this unique ecosystem.
The Pink and Emerald lagoons of La Mata and Torrevieja (La Laguna Rosa y Salada de la Mata y Torrevieja)
Planning to visit the lagoons in this area, it is needed to remember that it is all about one of the most beautiful landscape attractions of the Costa Blanca region. The Natural Park of lagoons de La Mata and Torrevieja, located in the south of the province of Alicante, includes unique lagoons of pink and emerald color, special local vegetation, rare species of birds and aquatic inhabitants.
The Pink lagoon is often called the «Dead Sea of Spain» (Mar Muerto de España), because of the high concentration of salt, a person can safely float on its waters. However, do not forget that swimming here is strictly prohibited. But this does not mean that walking with picturesque views and healing air saturated with minerals should be abandoned.
To get more familiar with the natural parks, it is recommended to go to the Visitor Center of the Natural Park of Lagunas de la Mata and Torrevieja (Centro de Visitantes del Parque Natural de las Lagunas de la Mata y Torrevieja), where one can get a map with routes and guides to these places.
There is a picnic area on the way to the emerald lagoon. This zone is surrounded by tall pine trees, which allows to enjoy a snack while inhaling the fragrant fresh air. Near the picnic tables, one can see installed observation towers for watching birds living in the lagoon. Of course, wild flamingos, which have been living along these parts for centuries, deserve especially close attention.
In June 2020, the lagoons of La Mata and Torrevieja counted more than 600 chicks of these beautiful birds, hatched in the post-coronavirus period. It has been more than 10 years since such a «baby boom»was observed in the local natural environment.
Another interesting bird that can be seen in the La Mata Nature Reserve is the robin. This small bird is very pleasing to the eye by its colorful plumage. Among the mammals, it is worth noting sociable squirrels, which would certainly give please to the youngest visitors of the natural park. These funny rodents can be seen everywhere on tree trunks. They deftly climb to the tops of trees, but often do not mind to help themselves with a delicious treat offered by visitors.
It should be also taken into account that the areas, which are outside the signs, are completely prohibited for walking. Therefore, in order to continue to enjoy this unique nature, it is needed to respect and protect its flora and fauna.
La Mata: attractions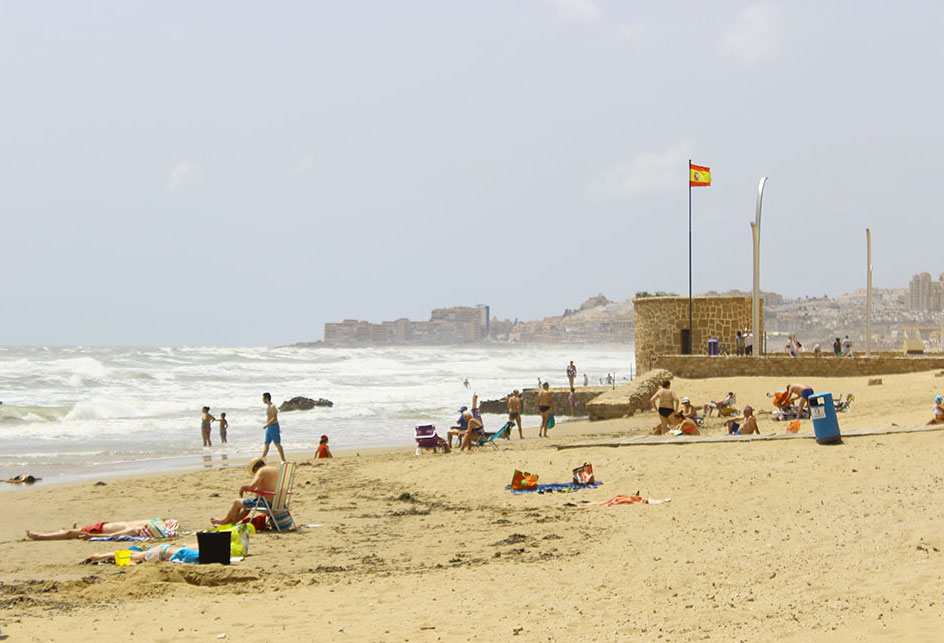 Salt lakes with unique features, and a spacious beach are certainly the main natural attractions of the La Mata area. Talking about others, it is also worth mentioning:
The old square Plaza de Encarnación Puchol, near the beach, in the central part of La Mata. This place offers entertainment for children, as well as Spanish-favorite celebrations and fiestas are arranged here. There are also many shops, bars and restaurants nearby;
The Catholic Church of Our Lady of the Rosary (Parroquia Nuestra Señora del Rosario) is located on the same square: Plaza de EncarnaciónPuchol, 8, 03188 La Mata, Alicante, Spain;
The salt mining monument – Embarcadero de la Sal – is also placed in the center of the district.
And then La Mata provided the name for a special white wine from «Merseguera» type of grapes. Merseguera is a variety of white wine grape from Spain, are also widespread in Alicante, Jumilla and Valencia. In the Valencian community, it is also named exquitsagos and verdosilla.
This grape has the following characteristics:
ripens late;
is widely planted in areas with low rainfall;
adapts well to different types of soil;
ripe bunches are characterized by yellowish-green berries of medium size.
The characteristics of wines produced from this grape variety are the following: pale tone, in some cases with a straw yellow shadow. Fine wine is obtained in cold regions: with a light aroma and low acidity. In warmer places, wines may have a higher alcohol content.
The vineyards with this grape variety have survived the last centuries as they managed not to suffer from the mass disease and plant death that overtook the region's harvest in the 19th century. However, within the natural park, only about 75 hectares still exist today, since most of these areas have been uprooted for the construction of urbanizations.
La Mata: infrastructure
Despite of its modest size, La Mata is one of the most desirable places for life and leisure among other areas of Torrevieja. Of course, life flourishes here not as active as in central districts of the city, but it is much more cozy and peaceful. The area itself is well-developed and well-maintained, surrounded by green spaces for pleasant walks, playgrounds for children, local chain stores, cafes, bars and restaurants. The proximity of the magnificent beach and famous salt lagoons is another incontestable advantage.
On Wednesdays, between 8:00 a.m. and 02:00 p.m., a small local market is arranged in La Mata (Mercadillo de La Mata). Traders from the whole vicinity set up their tents where one can buy species and greens, vegetables and fruits, jamon and meat delicacies, pastries and cheeses, shoes, clothing and accessories, as well as other essential goods. To find this market, one need to head towards the La Lecha street (Calle la Lecha) and the adjacent alleys.
La Mata: property
So how much does it cost to buy a property in this wonderful place? Let's turn to the idealista portal. According to data for November 2020, the average cost of housing in La Mata was 1674€/m2. If we look at the districts, the situation is as follows:
Cañada del Molino 2101 €/m2
Gaspar Perello 1503 €/m2
Los Europeos 1661 €/m2
At the same time, a one-bedroom apartment with an area of 32m2 can be purchased from 39.000€, with two or three bedrooms – from 52.000-57.000€. Duplex with one bedroom will cost from 69.000€, with two bedrooms – from 85.000€, with three bedrooms – from 900.000€. A three-bedroom bungalow with sea views starts from 90.000€.
If you want to get more familiar with the offers in this and other areas of Torrevieja, please find them in our catalog of properties in Spain, or contact our specialists.
Like this article? Share with your friends!