Guardamar del Segura is a small and friendly tourist municipality located on the Costa Blanca. The main advantages of Guardamar del Segura are its beaches, which attract many tourists from all over the world. However, in addition to the beaches, there are many more things to see here. In this article, we will tell you all about the attractions of Guardamar del Segura and, of course, its beaches.
Guardamar del Segura on the map

Weather in Guardamar del Segura
Guardamar del Segura is located in the province of Alicante, about 40 kilometres from Alicante city and 35 kilometres from the Alicante Elche airport. The weather in Guardamar del Segura is warm and allows you to enjoy 320 days of sunshine a year. Also, it hardly ever rains here, and the average annual air temperature is around 18 °C. Winters in Guardamar are warm (approximately 20 °C) and without snow. In addition, you breathe pure and curative air in Guardamar del Segura, due to the absence of factories, the proximity of the sea and the salt lakes. Likewise, the beautiful pine and eucalyptus parks make it an ideal place for those who suffer from diseases of the respiratory system.
The high season in Guardamar del Segura, as in all the Mediterranean tourist cities of Spain, falls in the months of July and August. The city is full of tourists in these months: its population almost triples. Beaches, restaurants and shops are crowded with people. A bit of advice: in order to avoid crowds of tourists, choose the right times. For example, it is recommended that you come to the beach around eight to nine in the morning.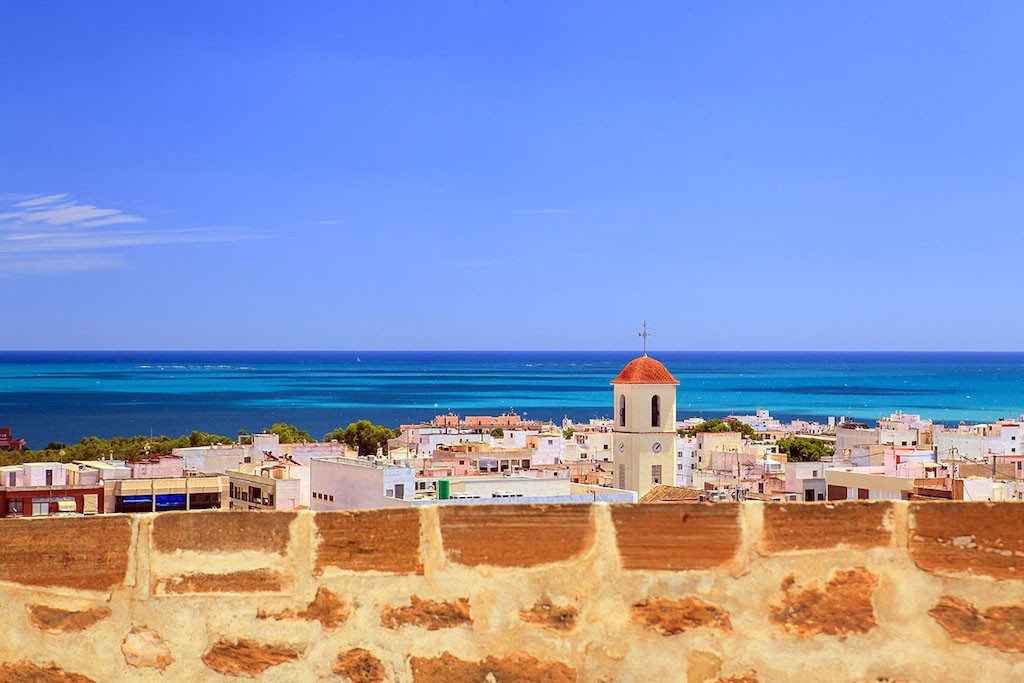 That way you may probably get a good spot on the beach. Also, this way you will definitely have no problems with parking. For lunch it is better to go a little before or after the usual lunch time in Spain (approximately from 2:00 p.m. to 4:00 p.m.). If you still want to eat lunch at those times, reserve a table in advance. For shopping, choose lunch time, so you won't have to face long queues at the till.
If you arrive in Guardamar del Segura in June or September, you can fully enjoy the heat, the sun and the sea, avoiding the crowds of tourists. Another main advantage is the lower prices, compared to the months of July and August. For those who cannot bear the intense heat, this is the best time in order to visit Guardamar del Segura. July and August are the hottest months on the Spanish Mediterranean coast.
Infrastructure and transportation in Guagdamar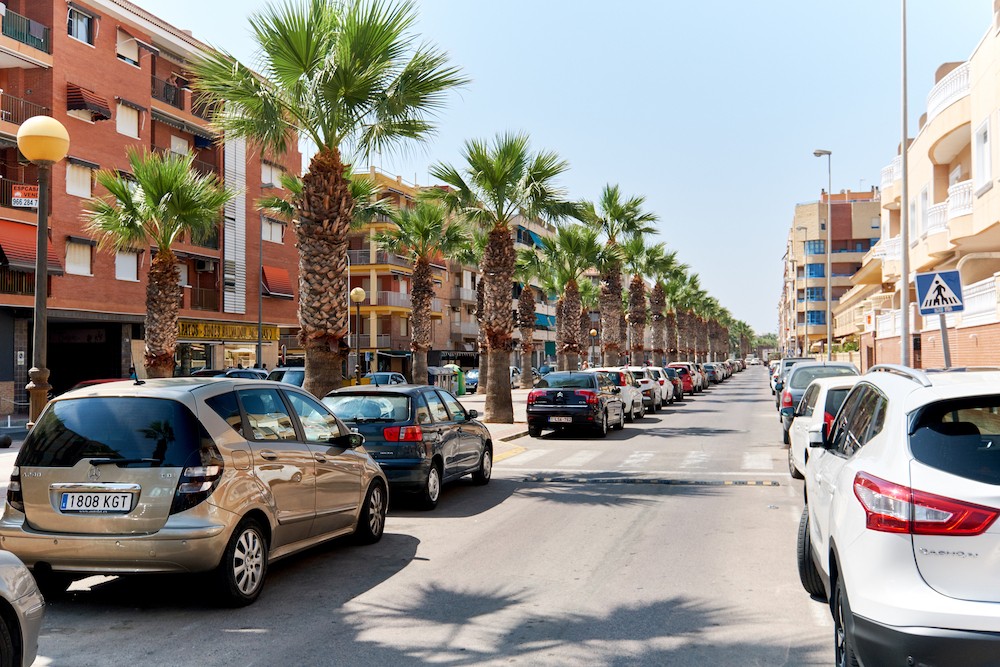 Guardamar del Segura has a well-developed infrastructure. You can find here everything you need for a holiday or permanent residence: shops and large supermarkets (Mercadona, Masymas, Lidl), cafes and restaurants with international cuisine, bars, clubs and nightclubs, schools and kindergartens, outpatients clinics, gyms and a municipal sports complex with tennis and paddle tennis courts, an indoor and outdoor pool and numerous activities.
In addition, every Wednesday, there is a street market where you can buy fresh fruits and vegetables, sweets, nuts, cheeses, sausages and ham, olives of many flavours and fillings, cakes, honey, clothing, shoes, accessories, toys, cosmetics and much more.
There is also a bus station in Guardamar del Segura where buses run in many directions, from neighbouring municipalities to Madrid. From here you can easily and economically get to, for example, Alicante or other interesting cities like the old city of Orihuela with a rich history.
A 15-minute drive from Guardamar del Segura, in Ciudad Quesada, there are some magnificent golf courses, which are very popular among lovers of this sport.
You should know that taxi drivers are on duty at the Guardamar del Segura bus station, in order to take you wherever you want. However, taxis in Spain are quite expensive.
Guardamar beaches

The coast of Guardamar del Segura offers almost 15 kilometres of magnificent beaches, with wonderful soft and golden sand. The sand dunes mentioned above create a beautiful and genuine landscape. Some beaches in Guardamar del Segura have been awarded the prestigious Blue Flag. A prize awarded by the UN to those beaches that meet the highest environmental and cleanliness standards, as well as those that have all the necessary tourist infrastructure. In short, an award that is given only to the best beaches.
Els Tossals beach. It is a nudist beach, which is 1661 m long and it is covered with soft sand, separated from the urban area by rich vegetation. The beach is north of the Segura river.
Dels Vivers beach. The length of this beach, located between the mouth of the Segura river and the Babilonia beach, is 1210 m. This beach stands out for the archaeological excavations carried out in the dunes which separate it from the city.
Babilonia beach. Soft, golden sand beach, which stretches for 1060 m. An interesting feature of this beach which gives it a special charm, is that along it there are small detached houses − "Las casas de Babilonia" (The Babilonia houses).
Centro Beach. This beach, as its name suggests, is located near the city centre. Its length is 427 m. This beach has been awarded the prestigious Blue Flag.
Roqueta beach. This beach, awarded with the prestigious Blue Flag, has a length of 1164 m. It is located near the city centre and it has a well-developed infrastructure. In addition, it is accessible for people with reduced mobility.
El Montcaio beach. This is another beach in Guardamar that has been awarded the prestigious Blue Flag. Its length is 2000 m, and it is also close to the city centre.
Camp beach. A spacious wild beach, with a length of 2021 m. It is located away from the places of greatest tourist congestion and is ideal for those seeking tranquillity and relaxation surrounded by nature.
Les Ortigues beach. A wonderful wild beach located on the border with the coastal area of ​​Torrevieja. It stretches for 1457 m.
Read about other beaches of the Costa Blanca here.
Guardamar coast: dunes, port and estuary of the Segura river
Another attraction of Guardamar del Segura are its sand dunes. At the end of the 19th century, these threatened to swallow the fishing village, which was then Guardamar, but the idea of ​​the engineer Francisco Mira saved the city. He suggested planting pine and eucalyptus trees in the coastal zone, which eventually became a beautiful park.
The port of Guardamar del Segura (Marina de las Dunas) is another interesting and beautiful place. Here the mouth of the Segura river comes together. The dock, which stretches several hundred meters out to sea and ends with a small lighthouse, is home to a colony of cats, which are fed by local fishermen and tourists. Furthermore, the port of Guardamar del Segura is a great place in order to watch seabirds.
Along the Segura river you will find bicycle routes, which lead to cities such as Orihuela and Murcia.
Nature in Guardamar: hills, gardens and lagoons
Around Guardamar del Segura you will find a beautiful green area of low hills ideal for walking or running. It offers stunning views of the sea, the citrus groves and the salty lakes of La Mata. In addition, you can go and enjoy the beautiful landscape of the mouth of the Segura river and the Tabarca island.
Not far from Guardamar, there is another natural wonder of the Costa Blanca: the incredible pink lagoons of Salinas de La Mata and Torrevieja. This is a unique natural landscape, with an area of ​​approximately 3700 hectares, which is home to many species. In fact, the famous pink flamingos live here. Its plumage has this beautiful colour due to the carotenoids present in the algae and crustaceans that they eat.
Guardamar Castle and archaeological sites
Guardamar Castle, or rather its ruins, are located on a hill above the city, about a 15-minute walk from the city centre. From its walls you can enjoy the beautiful panoramic views of the sea, the city and the citrus groves that surround it. In addition, there is also a magnificent sunset.
The Guardamar castle was built in 1271 and served as protection against Muslim attacks. The castle was almost completely destroyed in 1829 by a strong earthquake, and now only the ruins of the walls remain.
Antiques lovers, in addition to the castle, will find various archaeological sites in Guardamar del Segura: the Phoenician port of La Fonteta; the Iberian settlement and the Cabezo Lucero necropolis; and the ruins of the Rabita Califal mosque of the Dunes of Guardamar.
Museums in Guardamar del Segura
The Mag Archaeological Museum in Guardamar Del Segura is located in the Casa de la Cultura of the city. You will find here various exhibition halls for ceramics, tools, jewellery and other pieces related to different historical periods: prehistoric, Phoenician, Iberian, Romanesque and Muslim. One of the museum's most valuable objects is a female stone bust, which dates from around 430-350 BC. This piece was found during the excavations of the Iberian settlement Cabezo Lucero. The sculpture is called "Dama de Guardamar" and it is one of the symbols of the city. Several documents and photographs that tell about the history of the city are also exhibited here.
Also, there is another interesting museum in Guardamar del Segura, dedicated to the life and works of the talented engineer Francisco Mira, who saved the city from the invasion of the dunes.
You can visit both museums with a single ticket, which costs only 1 euro.
Parks in Guardamar del Segura
Guardamar del Segura is famous not only for its beaches, but also for its parks. The Parque Alfonso XIII is a unique park, distributed in an area of ​​800 hectares, with a large green area of ​​eucalyptus, palm trees and pine trees. This park was seeded at the end of the 19th century, according to the project of the engineer Francisco Mira, which saved the city from the sand dunes that were advancing on it.
The Reina Sofía Park is a wonderful park in the heart of Guardamar. Turtles, fish, ducks, geese and swans live in the ponds located in its territory. Peacocks and squirrels also live in the park, and they can be fed with your own hands. All this, in addition to a large playground, makes the Reina Sofía park especially interesting for families. Next to the park, in summer, an amusement park for the little ones is set up. In addition, on summer nights, concerts and free movie screenings are held outdoors.
Housing in Guardamar del Segura

Many of those who have visited Guardamar del Segura, want to move to this wonderful place. In fact, many people think about whether to buy a house in Guardamar del Segura. The property market in Guardamar del Segura and its surroundings, offers many options for all tastes and budgets: from affordable studios to luxury villas. The main advantage of buying a property in Guardamar del Segura and its nearby urbanizations is the proximity of the sea. In many cases, the beach can be reached on foot. The urbanizations that belong to the municipality of Guardamar are an exception since they are located far from the coast, such as El Raso or Edén.
Costs of buying and renting houses in Guardamar are growing every year, which makes it a promising area for investment. Many foreigners buy houses in Guardamar del Segura in order to rent them and, thus, obtain very good profits. This is because the city is gaining a lot of popularity among tourists. Buying a house in Guardamar and sell it later is also a profitable option.
According to March 2020 data from the Idealista website, the housing price in Guardamar del Segura was, on average, € 1519 per square meter. The price of the one-bedroom apartments and studios starts from € 48 000; and the price of the detached houses starts at € 73 000. Of course, there is also a great supply of luxury properties in Guardamar del Segura, which are located in prestigious residential complexes.
So, for whom is it advisable to spend a vacation or even the permanent residence, in Guardamar del Segura? First of all, this place is ideal for families with children who are looking for a warm and quiet place, where there is everything necessary to lead a full life. Guardamar del Segura is this place. The Guardamar del Segura beaches are considered among the best on the Costa Blanca; and its nature and clean air are ideal for those who come to the sea in order to relax and improve their health. Also, for those who are suddenly bored with silence and tranquility, you can always look for leisure in the nearby cities: Torrevieja, Alicante, Benidorm and Valencia offer entertainment for all tastes and ages.
Like this article? Share with your friends!