The charming Mediterranean town of Calpe is located in the north of the Costa Blanca, only one hour's drive from the International Airport – Alicante – Elche, and, in an hour and a half from another important airport – Valencia Airport.
Creative and bustling Benidorm, offering bus excursions to this picturesque and quiet town, is about 25 minutes' drive.
Despite the fact that Calpe grew out of a small fishing village, today the town's area is 23.5 km2, and the population is 22.725 people (January 1, 2019).
Due to its location, in the old days Calpe was of great strategic importance in protecting the coast from pirate attacks, which regularly occurred until the XVIII century. Traces of settlements of various civilizations were also found in the place of the present town: Phoenician, Roman and Muslim, and some of the remnants of architectural structures of different times can still be found throughout Calpe.
While the backbone of the economy of the town was fishing, but then it was replaced by tourism, including primarily seacoast recreation. There are many reasons for this: a favorable Mediterranean climate, excellent quality of beaches, the proximity of major tourist destinations (Alicante, Valencia, Benidorm), architectural monuments.
Overall, Calpe it is a cozy resort town with the aroma of the sea breeze, maintaining old fishing traditions and ancient history, full of sunlight and surrounded by beautiful beaches. A great choice for a holiday all year round!
The port and the fish market of Calpe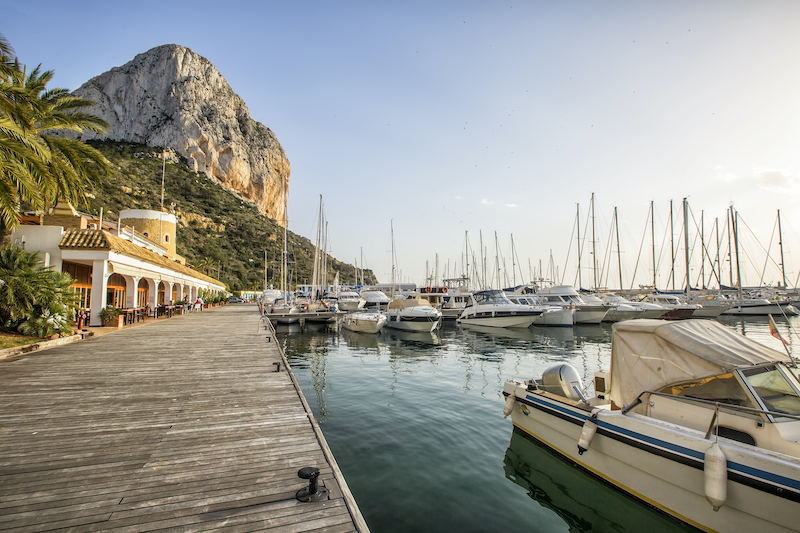 Fishing has always played an important part in the history and economy of the town, and therefore the fishing port of Calpe, that's where the action is: local vendors lay out and praise the fresh sea catch on their counters, and visitors can choose fish to their taste among all this abundance.
Every day at five in the evening, a fish auction is held at the Calpe fish market, for which boats from this area bring their goods. Just a few years ago, there was a tradition of voice auctions, which attracted gambling tourists very much. Currently, the auctions are computerized, which makes the purchase faster and more convenient, but, of course, this is clearly not as exciting and spectacular as a classic auction.
On the port side, there are many restaurants with beckoning counters right on their own terrace, where they have fresh and delicious seafood. A walk along such facilities is a great reason for gastronomic tourism.
Due to strong competition, each restaurant here does its best to offer you own marvelous menu and high service at the most pleasant price. And this tends to the fact that whatever restaurant you have dinner in, the quality of the fish and seafood offered will be on top.
Here are a few restaurants that deserve attention according to the touristic portal TripAdvisor:
Restaurante Puerto Blanco
Address: Urb. Canuta Baja, 35b, 03710 Calpe,Alicante, Spain
Phone: +34 965 830 977
Website: puertoblanco.eu
This is a restaurant of Mediterranean cuisine, which also offers dishes of European cuisine, Modern and Fusion cuisine. There is a specialized menu, suitable for vegetarians and vegans, including gluten-free dishes. The average price of the receipt: 30€-60€.
Dishes recommended by visitors: onion soup, foie gras, salad with shrimp and avocado, sea cocktail, sea bass in salt, chateaubriand, Norwegian lobster sashimi, hot dish with angler and tongue.
Patio de la Fuente
Address: Calle dos de Mayo 10 Old town, 03710 Calpe, Alicante, Spain
Phone number: +34 965 83 16 95
Website: patiodelafuente.com
The restaurant serves International, European and British cuisine. It is suitable for vegetarians and has gluten-free dishes on the menu.
Dishes recommended by visitors: salmon and shrimp in garlic sauce, sea bass fillet in Thai sauce, pork fillet in mushroom sauce and steak.
There is a three-course menu that costs 22€.
Tu Capricho
The restaurant specializes in Spanish and Mediterranean cuisine, as well as seafood. There is a special menu for vegetarians and vegans, gluten-free dishes. Menu of the day is 12€ (drinks not included).
Dishes recommended by visitors: paella Valenciana, specialty salad with honey dressing and goat cheese, shrimp in garlic sauce.
Restaurante Capri
Address: Avda. Gabriel Miro, 40 Gran Hotel Sol y Mar, Playa Arenal, 03710 Calpe, Alicante, Spain
Phone number: +34 608 83 56 56
Website: caprirestaurante.es
This restaurant serves French, Spanish and Mediterranean cuisine, as well as seafood dishes. There is a specialized menu, suitable for vegetarians and vegans, including gluten-free dishes.
Dishes recommended by visitors: tuna tartare, shrimp with avocado, ham slices, sea bass in salt, seafood soup, specialty paella, lamb square.
El Cantonet Restaurante-Pastelería
Address: Avda. Isla Formentera,03710 Calpe, Alicante, Spain
Phone number: +34 965 83 28 30
Website: elcantonetrestaurante.es
The El Cantonet restaurant serves Spanish and Mediterranean cuisine, as well as healthy food. There is a specialized menu, suitable for vegans and gluten-free dishes.
Dishes recommended by visitors: jamon iberico on acorns «Joselito», octopus carpaccio with caviar and assorted shrimp, grilled octopus with creamy potatoes and pepper, croquettes de boqueron with spinach and avocado, Andalusian squid with mayonnaise sauce and avocado.
Nature and beaches of Calpe

Of course, Calpe can boast not only gastronomic delights. The natural beauty of these places draw the genuine interest of tourists from all over the world.
With a 13-kilometer coastline, Calpe is one of those resorts on the Costa Blanca that has many bays and access to the sea. Its beaches have quality certificates and awarded by the Blue Flag – we are talking about the beaches of Arenal-Bol and Levante-Fossa.
The Beach Arenal-Bol (Spanish: Playa del Arenal-Bol)
This is one of the busiest urban beaches of the municipality. It has a convenient transport connection with the central part of the town and can easily be reached on foot. The beach is covered by fine golden sand. Playa del Arenal-Bol is about 1200 meters long and about 40 meters wide. It has a long landscaped embankment located a few meters from the town center.
The security and accessibility of the beach is provided by:
observation tower,
alarm system,
local police,
salvage equipment,
infirmary,
accessibility for persons with disabilities,
beach access signs.
The Beach Levante or La Fossa (Spanish: Playa de Levante o La Fossa)

The beach has a length of about 950 meters and a width of about 40 meters. La Fossa is a popular urban place and usually its occupancy level is quite high. This is a comfortable town beach with clean sand and blue waves, and the extensive list of services rendered does not differ from the previous one.
On the beach there are viewing platforms offering spectacular sea views, which you can admire while sitting in one of the many nice cafes on the coast.
In addition to the beaches, Calpe is also well known for its numerous picturesque coves, which include:
The Cove Morello (Spanish: Cala del Morelló)
The bay is located in the heart of Calpe, between the Arenal-Bol beach and the famous Peñón de Ifach cliff. The peculiarity of Cala del Morello is that it is surrounded from every side by rocks and its waters are protected from the surf, thus forming a special natural pond.
The beach Cantal Roig (Spanish: Playa Cantal Roig)
This beach with small bays is located next to the port of Calpe, in the area of fish restaurants and overlooking the Penon de Ifach cliff. As a rule, strong surf rarely happens in Cantal Roig, usually, the weather is nice here, so its location is perfect for spending an eventful day on the beach or having a delicious meal in one of the local restaurants.
Other attractions in Calpe
The Natural Park of Peñón de Ifach (Spanish: Parque Natural del Peñón de Ifach)
One of the main tourist attractions of Calpe is the unique Peñon de Ifach Natural Park, which is an impressive rocky massif in the middle of the sea at an altitude of 332 meters and an area of 53,3 hectares. There is a special hiking trail leading to the top of the Ifach cliff, from where you can enjoy magnificent views of the Mediterranean Sea, and on clear days you can see the island of Formentera, Ibiza and the cape of Santa Pola.
Penon de Ifach is one of the symbols of the Costa Blanca and one of the unique geographical landmarks of the Valencian community. Within the park there is a special flora and fauna. Among the plants: honeysuckle, thyme, juniper, mountain jasmine, sea grapes, carob and almond trees. The animal kingdom here includes 80 different species of birds like hawk, cormorant, starling and kestrel.
Entering the park is free of charge and it is accessible to the public on a daily basis.
Address: C. Isla de Formentera, S/N, 03710 Calp, Alicante
Phone number: +34 965 693 300
Website: parquesnaturales.gva.es
The Riding Club and Ranch – Hipico Calpe
For those who want not just to spend a day on well-maintained beaches and among seascapes, but also to communicate with animals, it is worth going to the equestrian ranch in Calpe. Thanks to experienced instructors, riding will be safe and exciting, so you can feel free to take children.
The ranch offers several routes of various duration and level of any level of complexity.
Calpe is a good choice for those who want to get away from the hustle and bustle of the town and immerse themselves in a pleasant and relaxed holiday with natural sites and a high level of services provided. If you are interested in buying property in Calpe, welcome to our catalog.
Read our article about Calpe:
Where is it best to live in Calpe?
Like this article? Share with your friends!